You'll be happy to call our renovated 3-bedroom home "Home," in Vieques.

Layout

Two master bedrooms - one has a queen bed and a bath en suite, the other is slightly larger, with a king bed, a desk, seating area looking out on the patio, and a bath directly across the foyer.



Each has a closet, A/C unit, ceiling fan(s), jalousie windows, bedside lighting.

One smaller bedroom has a single bed, ceiling fan, closet, desk, jalousie window, bedside lighting.



In addition, a roll-down bamboo curtain can close off part of the Living Room where a nice fold-out sofa (with a real mattress) creates a comfortable fourth sleeping niche, with A/C, ceiling fan, and big windows.

Both tiled baths have large counters, two wash basins, great lighting, stone-tiled shower stall and exhaust fan.

The outside shower, enclosed by a variety of flowering vines, may become your preferred alternative to boring, inside hygiene --a rainfall showerhead, plenty of hot and cold water, and great big sky above.


The Living Room has a really nice couch, big rocking chairs, game table, a 43" SmartTV with NetFlix-capable Wi-Fi available, a DVD player, A/C, ceiling fans, jalousie windows.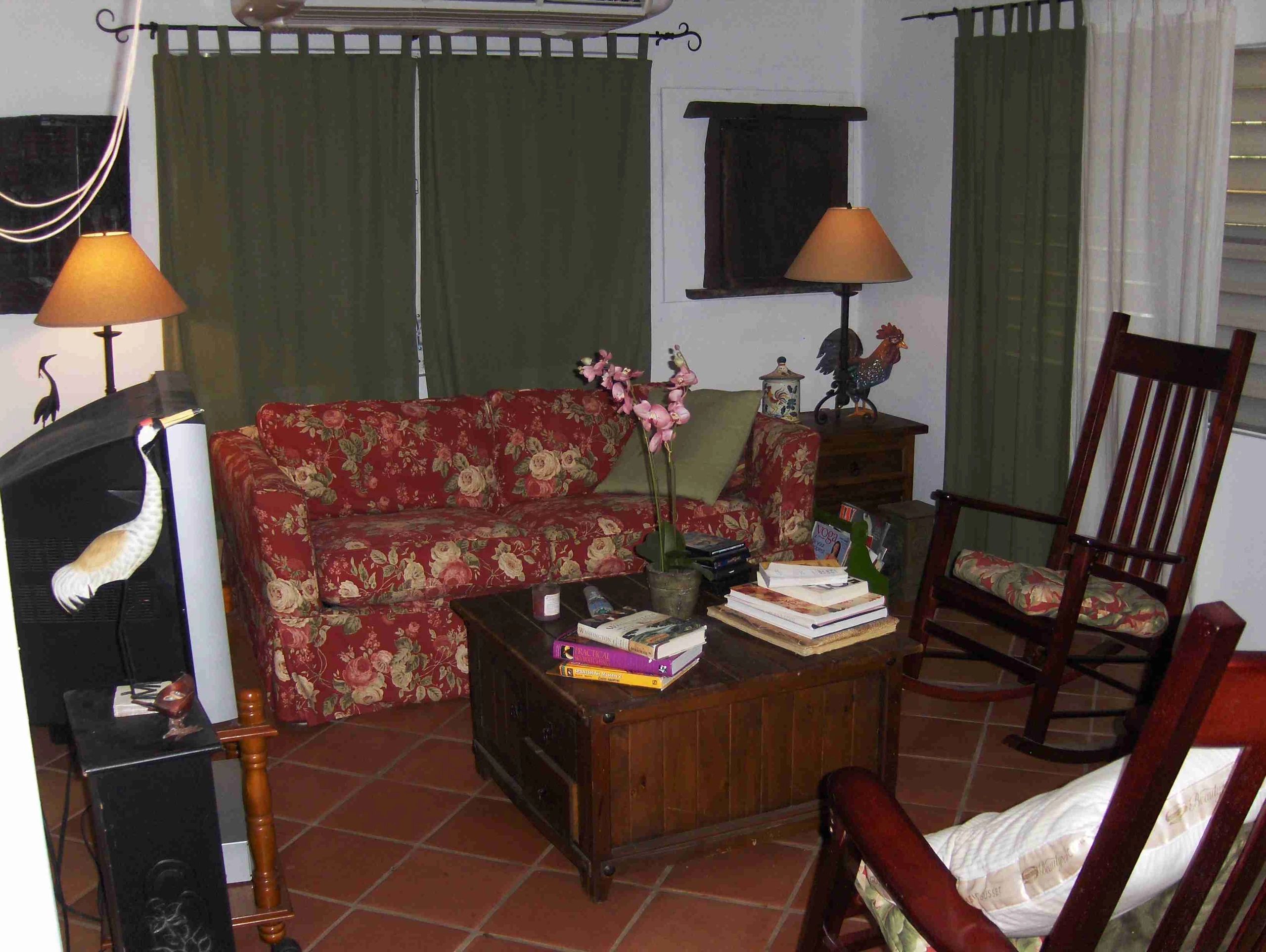 The completely new Kitchen meets "mainland" standards, with tiled work counters, mahogany dining counters, lots of cabinets, all the equipment.

The Front Porch has nice wicker seating and a ceiling fan.

The Patio has chaise lounges, picnic table and under cover seating area. Lots of nice plants, flowering and fruit trees, lots of friendly visitors: all sorts of birds, countless geckos, the occasional kitty cat and every so often a local iguana.




Air Conditioning, Ceiling Fans and Windows
No matter what the season, you'll be comfortable at Casa Orquidea! Our favorite is opening all the screened windows and enjoying the steady Trade Winds that blow from front to back, but the A/C and ceiling fans are sure nice to have in the summertime.

Fully Equipped Home Kitchen
Having a proper kitchen gives you the convenient, economical option of enjoying any meal you want right at home. We have a large refrigerator, microwave, gas range and oven, a Weber "Q" gas grill, as well as good sharp knives, a coffee machine, a blender, a toaster, and lots of other tools are also here for you to use, plus all the utensils and dishes you'll probably ever need.

While on the subject of meals....breakfast with the hummingbirds out on the patio is a great way to start the day! Packing a cooler with homemade sandwiches (on bread just baked around the corner) for lunch improves even Vieques beaches. And sitting around one of our dining tables, inside or out, is a great time to share details of the day's adventures, especially if it's over grilled fish caught that day and some ice cold Medalla's.

Laundry Room
Our full-sized washer and dryer let you pack light --remember, the dress code in Vieques is ultra-casual-- and helps keep piles of clean, dry towels ready. The slop-sink can also come in handy.

Beautiful Landscaping
Every day will provide a new discovery in the many tropical plants surrounding Casa Orquidea.